PVC Floor Film Factory
A PVC Floor Film Factory
There are a number of different PVC floor film options for you to choose from.
These include a variety of colors, patterns, and designs that can help you create the look you desire for your space. Regardless of the style you choose, you'll be happy with your final result.
The Decorative Layer
As the name suggests, this layer provides the texture and color you're looking for in your flooring. You can find all sorts of natural wood and stone patterns, making it easy to create the style you want.
The Color Film
This layer will add a beautiful color to your flooring that will make it stand out from the rest. You can choose from a wide range of options to ensure you're getting the look you want, including wood grain and marble veins.
The Wear Layer
A wear layer is a protective coating that will keep your floor safe from scratches and other damages that could ruin its look. It also acts as a barrier to protect your flooring from humidity, which can cause it to break down over time.
The Waterproof Film
A waterproof film is another great option for your flooring. This will ensure that it stays dry, which will make it easier to clean. This will also prevent any harmful stains from ruining your floors.
The Stain Resistance Film
A stain-resistant layer is another important component of your flooring, which will keep it looking its best for years to come. It will help prevent any stains from destroying your floors, while at the same time giving them a smooth, shiny finish.
The Printed Floor Graphics
A floor graphic can be a wonderful way to advertise your company and brand. It can be applied to a variety of surfaces, including wood, concrete, and tile. These materials will help your business stand out from the competition and be seen by a large audience.
Zhejiang MSD Group Share Co.,Ltd offers a full line of printable PVC flooring material, which can be used to print and apply graphics to a variety of indoor floor surfaces. This product is an excellent choice for retail, sports, entertainment, and other industries that require high-quality, durable floor graphics.
Our vinyl alternative can be printed on latex, solvent, eco-solvent and UV-curable printers. It's also compatible with laminated films for added durability and slip resistance.
Polymeric PVC Film
Zhejiang MSD Group Share Co., Ltd is a high-performance floor graphic media that delivers attention-grabbing, non-slip graphics on a variety of flooring types. It can be applied to ceramic tiles, sealed wood, concrete, waxed vinyl, or short-pile carpets. The film's removable, pressure-sensitive adhesive allows for easy application and removal of your floor graphics. It is ideal for short-term indoor advertising with floor graphics.
The Floor Overlaminate 
A high-performance, clear, removable film designed for indoor foot traffic-resistant floor graphic applications. The film can be printed with latex, solvent, eco-solvent, or UV-curable inks and is also compatible with laminated films for added durability.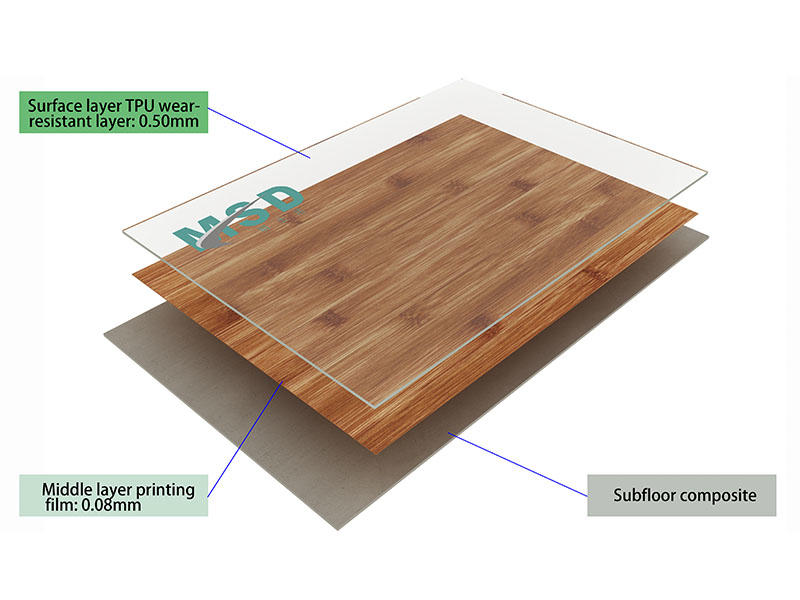 Pvc Wear Layer (Super White,Low-Shrink,Normal Specification)
PVC wear-resistant layer is one of the raw materials used to make PVC Floor,SPC and LVT . It is mainly used as the surface layer of PVC floor. 
It has the functions of wear-resistant and scratch-resistant. The wear-resistant layer of MSD also has the functions of antibacterial, mildew, and UV resistance. It can meet the requirements of environmental protection standards at all levels.