PVC floor film
offers several key advantages over traditional flooring options, making it a popular choice for both commercial and residential applications. The use of PVC floor film enhances durability, aesthetics, and ease of installation, making it a preferred flooring solution for various industries and consumers.
Advantages of PVC Floor Film:
Durability and Wear Resistance: PVC floor film is engineered to be highly durable and resistant to wear and tear. The top layer of the film is typically reinforced with protective coatings, providing excellent resistance to scratches, stains, and abrasions. This durability makes it suitable for high-traffic areas in commercial spaces, such as retail stores, offices, schools, and hospitals.
Water and Moisture Resistance: PVC floor film is inherently water-resistant, making it ideal for areas prone to spills, moisture, and humidity. The water-resistant properties prevent water penetration and damage, making it suitable for use in kitchens, bathrooms, and other areas with exposure to moisture.
Wide Range of Designs and Aesthetics: PVC floor film comes in a vast array of designs, colors, and patterns, allowing for versatile and customizable flooring solutions. It can mimic the appearance of natural materials such as wood, stone, and tile, providing a wide range of aesthetic options to complement various interior styles.
Easy Installation and Maintenance: PVC floor film is designed for easy installation, often using a peel-and-stick or click-lock system. This simplifies the installation process, reducing downtime and labor costs. Additionally, the low-maintenance nature of PVC floor film requires only regular cleaning to maintain its appearance and performance.
Cost-Effectiveness: Compared to traditional flooring materials such as hardwood, ceramic tiles, or natural stone, PVC floor film is generally more cost-effective. It provides a budget-friendly option for achieving the desired aesthetic without compromising on durability and performance.
Comfort and Acoustic Benefits: PVC floor film typically has a softer and warmer feel underfoot compared to hard flooring materials like tiles or concrete. It can also offer acoustic benefits, reducing noise transmission and improving the overall comfort of indoor spaces.
Environmentally Friendly Options: Many PVC floor film manufacturers offer eco-friendly and phthalate-free options, making it a sustainable choice for environmentally-conscious consumers and businesses.
In conclusion, PVC floor film provides several key advantages that set it apart from traditional flooring options. Its durability, water resistance, aesthetic versatility, ease of installation, and cost-effectiveness make it a preferred choice for both commercial and residential applications. The wide range of designs and environmentally friendly options further contribute to its popularity among consumers and businesses seeking durable and visually appealing flooring solutions.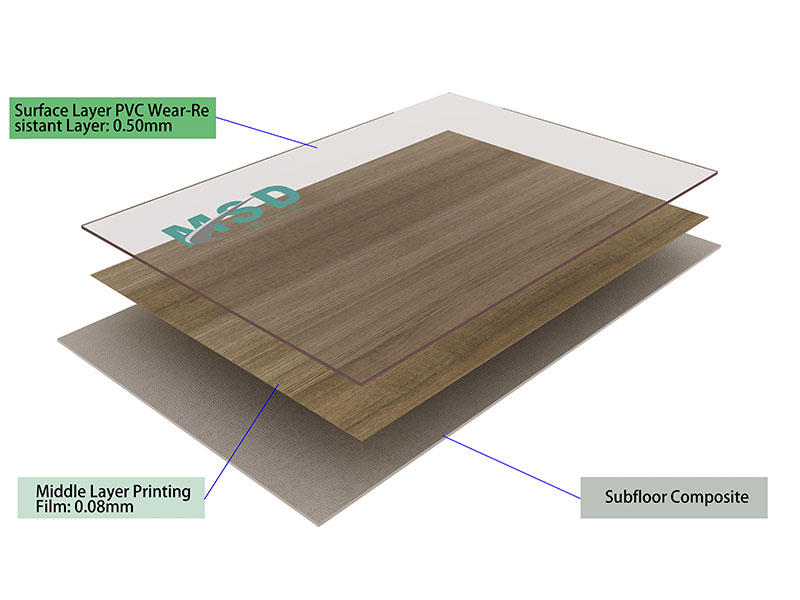 Pvc Wear Layer (Super White,Low-Shrink,Normal Specification)