The marine industry has witnessed a significant shift in recent years with the advent of advanced materials, and two prominent innovations that have revolutionized the design and manufacturing of inflatable boats are
Drop Stitch Fabric and Inflatable Boat Fabric
. These materials have gained immense popularity due to their exceptional performance, durability, and versatility, making them ideal choices for various watercraft applications.
1. Drop Stitch Fabric:
Drop Stitch Fabric is a remarkable textile technology that involves interconnecting thousands of threads to create a sturdy and robust structure. The fabric's unique construction involves parallel threads running between the top and bottom layers, with a series of vertical threads precisely spaced between them. This arrangement allows the fabric to maintain a flat surface even when inflated to high pressures, providing exceptional rigidity.
Advantages of Drop Stitch Fabric in the Marine Industry:
a. Enhanced Stability and Strength: One of the primary advantages of using Drop Stitch Fabric in inflatable boats is the enhanced stability it provides. The fabric's ability to maintain rigidity under pressure ensures the boat's hull remains firm, reducing flex and enhancing overall structural integrity. This stability is crucial for activities like fishing, diving, and water sports, as it ensures a secure platform for users.
b. Lightweight and Portability: Drop Stitch Fabric is incredibly lightweight compared to traditional boat-building materials like aluminum or fiberglass. This characteristic allows inflatable boats made with this fabric to be easily transported, launched, and retrieved, making them ideal for recreational boaters, adventurers, and emergency response teams.
c. Customizable Design: Drop Stitch Fabric's flexibility in design allows manufacturers to create inflatable boats of various shapes and sizes, catering to diverse applications. The ability to customize boat designs provides a unique selling point for manufacturers and ensures they can meet specific customer requirements.
d. Reduced Maintenance: Inflatable boats made from Drop Stitch Fabric require minimal maintenance compared to traditional boats. The absence of a rigid hull eliminates the need for regular maintenance and costly repairs, making it an attractive option for boat owners looking for low-maintenance watercraft.
2. Inflatable Boat Fabric:
Inflatable Boat Fabric is another critical component in the marine industry that complements Drop Stitch Fabric. Typically, this fabric is made from high-quality materials like PVC (Polyvinyl Chloride) or Hypalon (a synthetic rubber), which are known for their excellent resistance to UV rays, abrasion, and harsh marine environments.
Advantages of Inflatable Boat Fabric in the Marine Industry:
a. Durability and Longevity: Inflatable Boat Fabric's exceptional durability ensures that inflatable boats can withstand the challenges of the marine environment. Its resistance to UV degradation, saltwater, and abrasion prolongs the boat's lifespan, providing a reliable and long-lasting watercraft.
b. Buoyancy and Safety: The inherent buoyancy of Inflatable Boat Fabric enhances the safety of the watercraft, making it practically unsinkable even in challenging conditions. This characteristic is particularly crucial for applications like search and rescue operations and military missions, where the safety of passengers and cargo is paramount.
c. Resistance to Environmental Factors: Inflatable Boat Fabric's ability to resist UV rays and saltwater degradation allows the boats to maintain their appearance and functionality even after prolonged exposure to harsh marine conditions. This resistance reduces the need for frequent repairs or replacements, resulting in cost savings for boat owners.
d. Repairability: In the event of damage or punctures, Inflatable Boat Fabric is relatively easy to repair. Manufacturers provide repair kits that allow boat owners to fix minor issues themselves, eliminating the need for professional assistance in many cases.
The combination of Drop Stitch Fabric and Inflatable Boat Fabric has brought significant advancements to the marine industry, transforming the way inflatable boats are designed, manufactured, and used. Their advantages in terms of stability, lightweight, durability, and resistance to environmental factors make them increasingly popular among recreational boaters, water sports enthusiasts, commercial operators, and emergency responders. As technology continues to advance, these materials are expected to further innovate the marine industry, enabling the creation of even more efficient, versatile, and sustainable inflatable watercraft.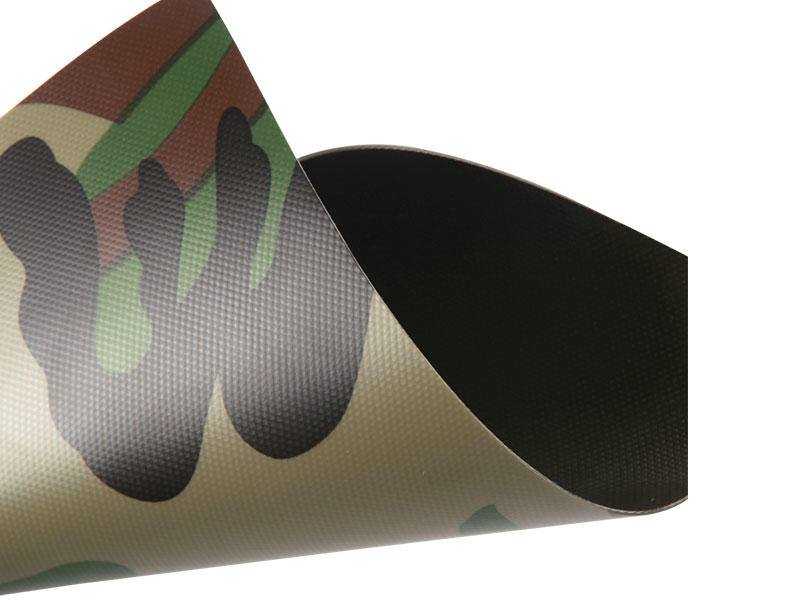 0.52 mm 650GSM 1000D23X23 Camouflage Airtight PVC Inflatable Boat Fabric